As the event organizer, or coordinator, it is your responsibility to make sure that your guests are well looked after and entertained. This means ensuring that the options for fun and memory-making are there that will inspire your guests to get involved. Photo booths have become one the mainstays of modern parties. They are versatile, cost-effective and allow your guests to take home memories of the party to share with friends and family. With all of the different photo booth options available, it can be hard to choose which option is the best fit for your particular party or group. Below are some of the advantages of having an open air photo booth.
It's easy and fun.
Open air photo booths are great because they are a lot more comfortable than the enclosed spaces of most other photo booth styles. Open air booths also shows how much fun everyone there is having while taking hilarious pictures!
Sharing photos is easy.
With open air photo booths, you get your picture instantly. The social media integration allows your guests to upload their photos in real time or save them directly to their phones or other mobile devices if they so choose.
Customization.
The ability to print photos in a wide range of styles and filters gives guests the ability to print a hard copy of their fun that they can take home, or leave for the guest with their gratitude and best wishes written on the back.
Open air photo booths are a great alternative to the standard, enclosed photo booth. They make sharing photos a cinch, allow your guests a degree of fun customization and eliminate discomfort when overheating due to summer weather becomes a factor. Keep the above benefits of an open air photo booth in mind when throwing your next party and create an event that your guests will remember for a long time to come. They can fit as many as 13 people in a completely open space. We use a photography backdrop to create a photo lounge feel. This booth was designed with style and fun in mind.
Open on All Sides
Fits Up to 13 People
Requires a minimum of 10ft x 10ft set up. See diagram below.
Our Set-up diagram. Click on the picture to enlarge the image.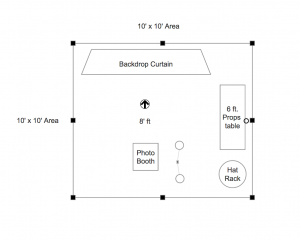 Here are pictures from some of our recent set-ups.